ACOUSTIC CHARACTERISTICS OF ROAD SURFACES
Keywords:
tyre/road noise, stone mastic asphalt; exposed aggregate cement concrete; close proximity method (CPX)
Abstract
The article is focused on the tyre/road noise and vibration measurements of the motorway network in the Czech Republic between 2012 and 2020. Three different surfaces were measured, namely a conventional stone mastic asphalt pavement (SMA 11S) and two cement concrete pavements with different treatments – burlap drag and exposed aggregate. A basic statistical analysis of the noise values in different years after laying was performed. Cement concrete treated by burlap drag method has lower noise values than SMA 11S. This is to be expected as burlap drag method is considered a low-noise cement concrete treatment. However, it has worse skid resistance properties and so the exposed aggregate cement concrete (EACC) began to be used. SMA 11S and EACC have very similar noise levels in all years tested, suggesting that they behave acoustically in the same way. Vibrations were investigated during field measurements with an accelerometer mounted on the CPX trailer. The noise and vibration results could thus be compared with each other. There is a positive correlation between them.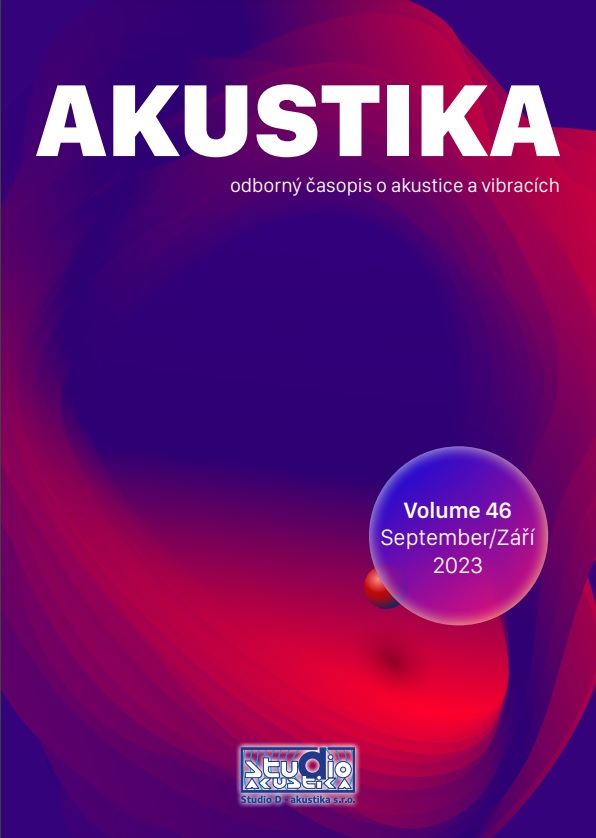 Downloads
How to Cite
Marková, P., Křivánek, V., Hablovičová, B., & Machanec, J. . (2023). ACOUSTIC CHARACTERISTICS OF ROAD SURFACES. Journal Akustika, 46(46). https://doi.org/10.36336/akustika20234619
License
Copyright (c) 2023 Petra Marková, Vítězslav Křivánek, Blanka Hablovičová, Jan Machanec
This work is licensed under a Creative Commons Attribution-NonCommercial-NoDerivatives 4.0 International License.
Journal Akustika is peer reviewed journal indexed in Scopus database and
Web of Science.