ASSESSING THE IMPACTS OF ROAD NOISE IN RELATION TO RESIDENTIAL AREAS AND ECONOMIC COSTS THROUGH MODELLING
Abstract
This paper focuses on noise modelling and the assessment of road noise impacts in relation to residential areas and economic costs using modelling. The intention of the whole project and the authors' work is to contribute to the determination of changes
in road noise levels for relevant decision-making processes with direct applicability in social sciences (regional development, sociology, demography, economics) related to health risk assessment (public health). The longevity, noise reduction levels and external
cost changes of using low noise roads should therefore be appreciated. The purpose is to remove the identified disparity and to make
publicly available, through a certified methodology, the data needed to assess the long-term effects of noise pollution from low-noise
roads for use by regional development, thus contributing to the strategy of Directive 2002/49/EC.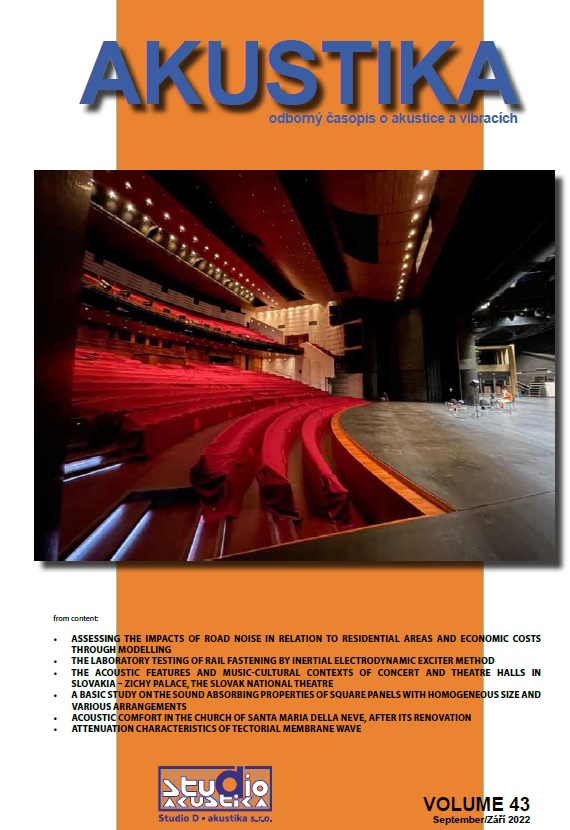 Downloads
How to Cite
Křivánek, V., Marková, P., Hablovičová, B., Machanec, J., & Potužníková, D. (2022). ASSESSING THE IMPACTS OF ROAD NOISE IN RELATION TO RESIDENTIAL AREAS AND ECONOMIC COSTS THROUGH MODELLING. Journal Akustika, 43(43). https://doi.org/10.36336/AKUSTIKA2022432
License
Copyright (c) 2022 Vítězslav Křivánek
This work is licensed under a Creative Commons Attribution-NonCommercial-NoDerivatives 4.0 International License.
Journal Akustika is peer reviewed journal indexed in Scopus database and
Web of Science.