VIBRATION-ISOLATING BALL-TYPE CLUTCH AS A SOURCE OF INCREASED VIBRATION ACTIVITY IN THE SYSTEM: AMORTIZED MECHANISM – SHAFT LINE
Abstract
The results of experimental studies of vibration activity of a vibration-insulating ball-type clutch installed on a shaft line are
presented. These studies were made on the test stand. It is shown that, depending on the value of the shaft line fracture, the vibration activity of the ball-type clutch can increase in a wide frequency range up to 30 dB. The diagnostic features of the ball-type clutch which allow estimating its vibration activity have been identified on the basis of the analysis of experimental data.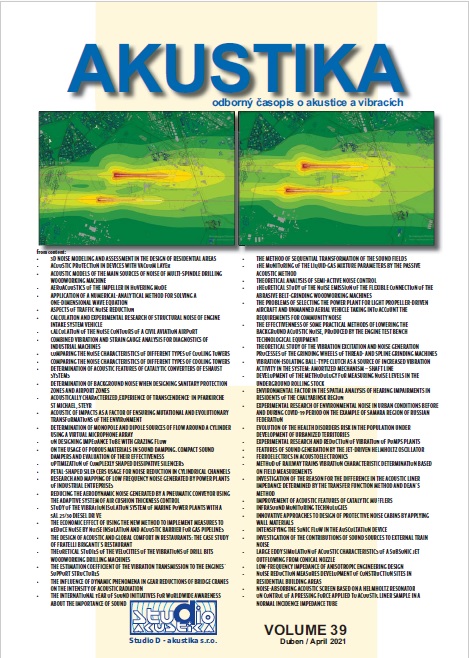 Downloads
How to Cite
Kudryavtseva, I., Rykov, S. A., & Rykov, S. V. (2021). VIBRATION-ISOLATING BALL-TYPE CLUTCH AS A SOURCE OF INCREASED VIBRATION ACTIVITY IN THE SYSTEM: AMORTIZED MECHANISM – SHAFT LINE. Journal Akustika, 39(39). https://doi.org/10.36336/akustika202139177
License
Copyright (c) 2021 Irina Kudryavsteva
This work is licensed under a Creative Commons Attribution-NonCommercial-NoDerivatives 4.0 International License.
Journal Akustika is peer reviewed journal indexed in Scopus database and
Web of Science.