THEORETICAL STUDIES OF THE VELOCITIES OF THE VIBRATIONS OF DRILL BITS WOODWORKING DRILLING MACHINES
Abstract
On woodworking machines of the drilling group, drill bits of the following diameters (mm) are used at rotation speeds: SvP2
and SvA-2-ø 50 mm, n = 3000 rpm 4500 rpm; Sv8, Sv12-ø 10-16 mm, n = 2800 rpm; SGVP-ø up to 35 mm, n = 2800 rpm.
Acoustic models are described in detail in [1] as can be seen from the analytical dependences of sound pressure levels to calculate the noise spectra, it is necessary to determine the oscillation velocities of the drill bit at their natural frequencies.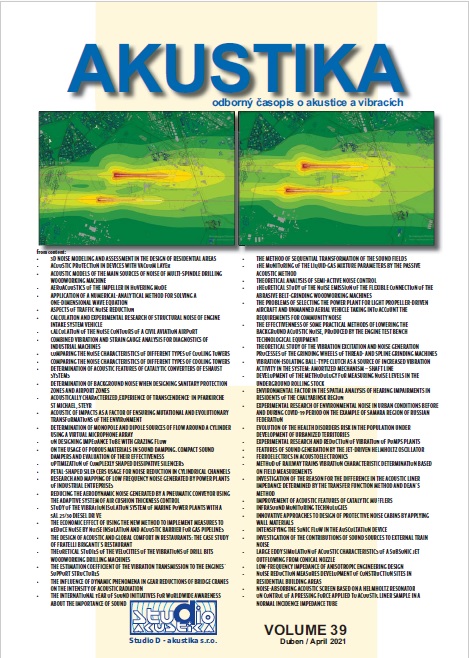 Downloads
How to Cite
Ruslyakov, D. (2021). THEORETICAL STUDIES OF THE VELOCITIES OF THE VIBRATIONS OF DRILL BITS WOODWORKING DRILLING MACHINES. Journal Akustika, 39(39). https://doi.org/10.36336/akustika202139124
License
Copyright (c) 2021 Dmitry Ruslyakov
This work is licensed under a Creative Commons Attribution-NonCommercial-NoDerivatives 4.0 International License.
Journal Akustika is peer reviewed journal indexed in Scopus database and
Web of Science.