INVESTIGATION OF THE CONTRIBUTIONS OF SOUND SOURCES TO EXTERNAL TRAIN NOISE
Abstract
The article discusses the method and results of in-situ investigations of the contributions of noise sources of railway transport
to the external sound field. The main sources that form the external sound field are pantograph, inter-car coupler and wheel-rail interaction. Experimental studies were carried out for electric trains, passenger, high-speed and freight trains moving with different velocities. The tests have shown the wheel-rail pair makes the main contribution to the external field formation for all types of trains is made by. For high-speed trains and electric trains at speeds over 100 km/h, the noise of the pantograph begins to make a certain contribution. The sound level of electric and high-speed trains increases by 1.5 dBA and sound level of passenger and freight trains increases by 3-3.5 dBA with the increase of speed per each 10 km/h.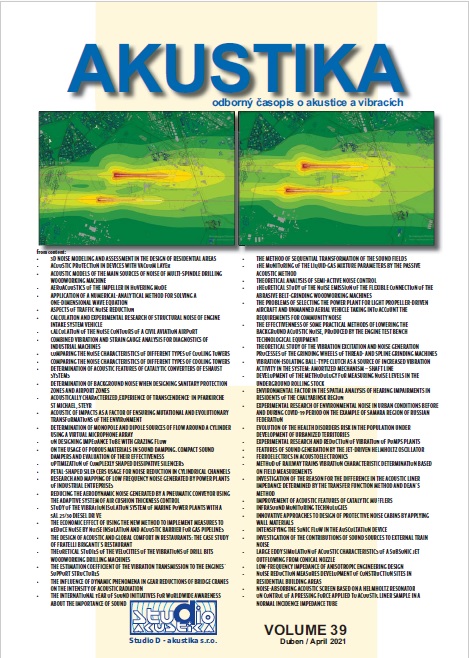 Downloads
How to Cite
Kuklin, D., Butorina, M., & Vasilev, A. (2021). INVESTIGATION OF THE CONTRIBUTIONS OF SOUND SOURCES TO EXTERNAL TRAIN NOISE. Journal Akustika, 39(39). Retrieved from https://www.journalakustika.com/index.php/akustika/article/view/34
License
Copyright (c) 2021 Denis Kuklin, Marina Butorina, Aleksandr Vasilev
This work is licensed under a Creative Commons Attribution-NonCommercial-NoDerivatives 4.0 International License.
Journal Akustika is peer reviewed journal indexed in Scopus database and
Web of Science.